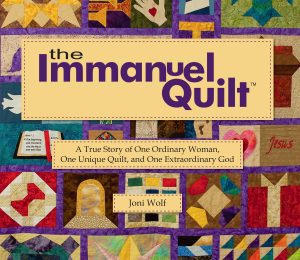 The Immanuel Quilt is for Christians and non-Christians alike. If you think that God stopped speaking to His people long ago—You really need to rethink your beliefs.
God continues to speak to His children today—sometimes in crystal clear thoughts, sometimes in new revelations from His Word, sometimes from preachers—from teachers— from fellow Christians, and—in dreams—as is outlined in the book, The Immanuel Quilt.
Joni Wolf takes you on a journey discovering some of the many names and qualities of our Lord and Savior—Immanuel—that she received in a dream from God. Called out of her comfort zone in several areas, Joni proceeded to obey her Lord and one of the most beautiful, intricately detailed quilts was created—by His specifications— that tells once again, the old old story in a new and exciting way. Each precisely designed quilt block tells a part of His story and brings the reader into closer proximately with Jesus.
If you have the chance to hear Joni Wolf's story in person, go!—It is an uplifting, unbelievable, and incredible story—and if you don't have that opportunity, read her book—the next best thing! It is written in a format that draws the reader in. It educates, stimulates and creates the opportunity to feel the Holy Spirit at work.
Yes! God is still at work among His people. Don't miss out on it! Experience The Immanuel Quilt by Joni Wolf. It truly is a true story of one Ordinary Woman, One Unique Quilt, and One Extraordinary God!​
Marjorie E. Hopkins – Free lance writer and author of Dying to Meet Him – Wit and Wisdom from a Funeral Director Wife