Received this Teacher Review After Speaking at a Private School
It was really God's hand at work, and I marvel at how it all came together!
My daughter, an 8th grader at a local public junior high, came home from school the other day so excited. She shared that a wonderful speaker had come to talk to the FCA (Fellowship of Christian Athletes) group that morning. Now, normally my daughter is somewhat reserved/reticent, and for her to be so animated and for her to bring up the experience several times I knew she was deeply impacted. I, myself, then became very interested in the story. I decided to investigate more about this Immanuel Quilt Ministry. I checked on the website and learned that Mrs. Wolf lives right in our home town and does regular presentations upon request. I decided, right then and there, to email her to see if she might be able to come to talk to the students and staff at the new school I am currently working at.
It was really God's hand at work, and I marvel at how it all came together!
The more I thought about it, I just knew that having Mrs. Wolf visit us at Boone Prairie was all in God's plan. I was very struck by the similarities between Joni Wolf's story—an ordinary woman called by God to do something extraordinary, something she never would have imagined for herself—and the story of how Boone Prairie School came to be. You see Bret and Shawna Reinhardt, the builders/founders/creators of Boone Prairie are not teachers themselves. They are ordinary people who happen to be extraordinary dreamers! They are successful business owners who felt that the educational opportunities that were available were somewhat lacking, and though they had no training or prior experience, they felt called to do something about that. Like Mrs. Wolf, the Reinhardts decided to see where God would lead them. Walking on faith, they built a school of their own–Boone Prairie!
​
It was really God's hand at work, and I marvel at how it all came together!
Mrs. Wolf and I connected and were able to set up a time for her to visit Boone Prairie. It was a wonderful experience all around, one that made a lasting impression. Mrs. Wolf is a gifted storyteller, and the power of her tale deeply touched us all. The students, kindergarten through sixth grade, as well as the staff were all captivated by the poignant testimony that was given. There was a quite the buzz about how exciting it is that God is still communicating to people through dreams, just as he did in days long ago with Joseph. So much wonderful dialogue and deep discussion resulted from the presentation this afternoon! This all points to the awesome power of our God–that Mrs. Wolf is able to work through her fears by obeying His call as He leads her to places she could never imagine! Mrs. Wolf is a great example of what it means to step out in faith, and it is clear that she is truly walking hand in hand with God through this journey. How exciting to be able to share God's amazing story through the humanness of her own experience, the striking beauty of the Immanuel Quilt itself, and the impact of the written word. We are deeply grateful to Mrs. Wolf for sharing with us here at Boone Prairie.
​
It was really God's hand at work, and I marvel at how it all came together!
Rachael Cotteleer
5th/6th grade Teacher
Boone Prairie School
Whitestown, IN
Testimonial
Joni Wolf is a friendly down-to-earth lady. From the start of her talk, I was captivated by what she was saying. The caption on the cover of her book, The Immanuel Quilt, calls it A True Story of One Ordinary Woman, One Unique Quilt, and One Extraordinary God." And it is exactly that. As her story unfolded, I began to realize it was not just for quilters–it's a story everyone should hear. Jon offers a real-life example of God's clear leading in one's life. It's a story that gives God the glory, and offers inspiration and challenge for every believer to willingly be used in service for God.
it was easy to understand why a book was necessary. The names of Jesus lining the outer edges of the quilt were painstakingly narrowed down to 30 from 300. The right fabrics with meaningful color took time to select. Designs to depict each of the 30 names took careful thought. Each pattern had its own story, a reason to be included, in the making of the quilt.
Needless to say, I came home with her book. It's a beautiful coffee-table worthy book filled with professional photographs in color by Cassandra Parkins of Inspired Studios. It's also a Scripture-laden book with over 300 references spread throughout. The introduction is followed by six chapters. Chapter Five is titled "His Story" and, as you turn each page, you will read an individual explanation for each of the 30 names bordering the quilt. You will be encouraged, inspired, comforted, and blessed as you go through the names with accompanying Scripture for each one. You'll even find God's plan of salvation explained.
But there's more. As you move to Chapter Six, "The Immanuel Sampler," the names of Jesus are repeated to include a personal story for each name. As Joni says, "This chapter is intended to acquaint you with the ways God makes His presence known in our everyday, ordinary lives." By the end of the book, Joni has achieved her purpose of pointing us to the One who is always with us…Immanuel.
Melba Largent
A Review from A Fellow Author
The Immanuel Quilt is for Christians and non-Christians alike. If you think that God stopped speaking to His people long ago—You really need to rethink your beliefs.
God continues to speak to His children today—sometimes in crystal clear thoughts, sometimes in new revelations from His Word, sometimes from preachers—from teachers— from fellow Christians, and—in dreams—as is outlined in the book, The Immanuel Quilt.
Joni Wolf takes you on a journey discovering some of the many names and qualities of our Lord and Savior—Immanuel—that she received in a dream from God. Called out of her comfort zone in several areas, Joni proceeded to obey her Lord and one of the most beautiful, intricately detailed quilts was created—by His specifications— that tells once again, the old old story in a new and exciting way. Each precisely designed quilt block tells a part of His story and brings the reader into closer proximately with Jesus.
If you have the chance to hear Joni Wolf's story in person, go!—It is an uplifting, unbelievable, and incredible story—and if you don't have that opportunity, read her book—the next best thing! It is written in a format that draws the reader in. It educates, stimulates and creates the opportunity to feel the Holy Spirit at work.
Yes! God is still at work among His people. Don't miss out on it! Experience The Immanuel Quilt by Joni Wolf. It truly is a true story of one Ordinary Woman, One Unique Quilt, and One Extraordinary God!​
Marjorie E. Hopkins – Free lance writer and author of Dying to Meet Him – Wit and Wisdom from a Funeral Director Wife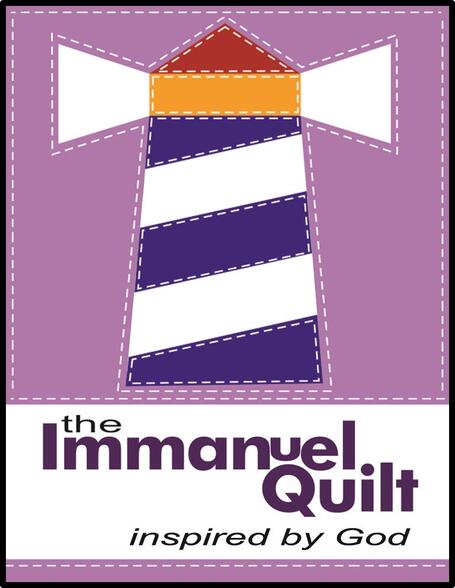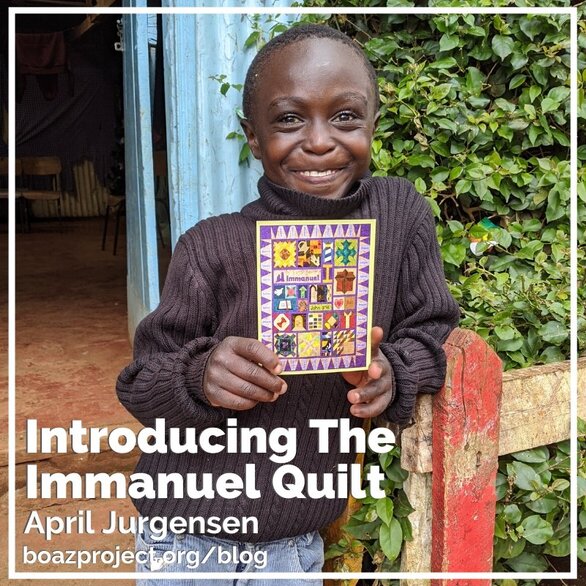 Boy in Kenya learns about Jesus through Immanuel Quilt Ministry curriculum.
Isn't it fun when you get a glimpse of how God actively orchestrates the details of your life to bring about good?
I never imagined when I sent a Facebook message to another Indiana member of my authors' group, Joni Wolf, that it was the beginning of great things, things God had planned to bless orphans.
Joni is the author of "The Immanuel Quilt: A True Story of One Ordinary Woman, One Unique Quilt, and One Extraordinary God." I recognized her story from an article I'd read somewhere before: In her dream, Joni was given intricate details of a quilt she was to make, portraying the names of God. She was to travel and share this quilt as her ministry.
I can tell you that The Immanuel Quilt is breathtaking. Trimmed in purple, each square represents a different Biblical name for God, from Good Shepherd to Morning Star.
I was excited to connect with an author who shared my mission of sharing Christ's love. We decided to meet up and swap stories, and that meet-up lead to a shared purpose.
It turns out, God was leading Joni to write a children's curriculum that could be used in VBS, Sunday School, Bible Clubs, small groups, etc. Since I have a little experience in that area, she asked if I would contribute…and if I'd like to use the curriculum in our orphanages! Convinced that these visual cues would aid children in remembering the names and associated Bible stories, I happily agreed.
A partnership was formed.
On our recent trip to Kenya, we piloted "The Good News Reporter" curriculum. Encouraging children to tell the good news about Jesus Christ, this curriculum introduces 30 names of God, but focuses on the names Word of God, Creator, Immanuel, Savior, and Dwelling Place. Lessons for each of the five names are included along with suggestions for games, crafts, songs, and activities.
As you can see, the children at El Shaddai enjoyed making the crafts, playing Names of God Bingo, doing the God Speaks worksheet and hearing the Bible stories. The content lead to great discussions in the older groups, and lots of fun in the younger ones. I'd call it a success!
What's more, Joni has generously offered to donate 15% of the sales from her books sold along with the curriculum to The Boaz Project toward supplies needed for our VBS trips. So, if you're looking for a great, Bible-based curriculum to use with children—even at home!—I have to recommend The Good News Reporter.
Learn more or make your purchase at Immanuelquiltministry.com
Believing in miracles,
April Jurgensen
Executive Director, The Boaz Project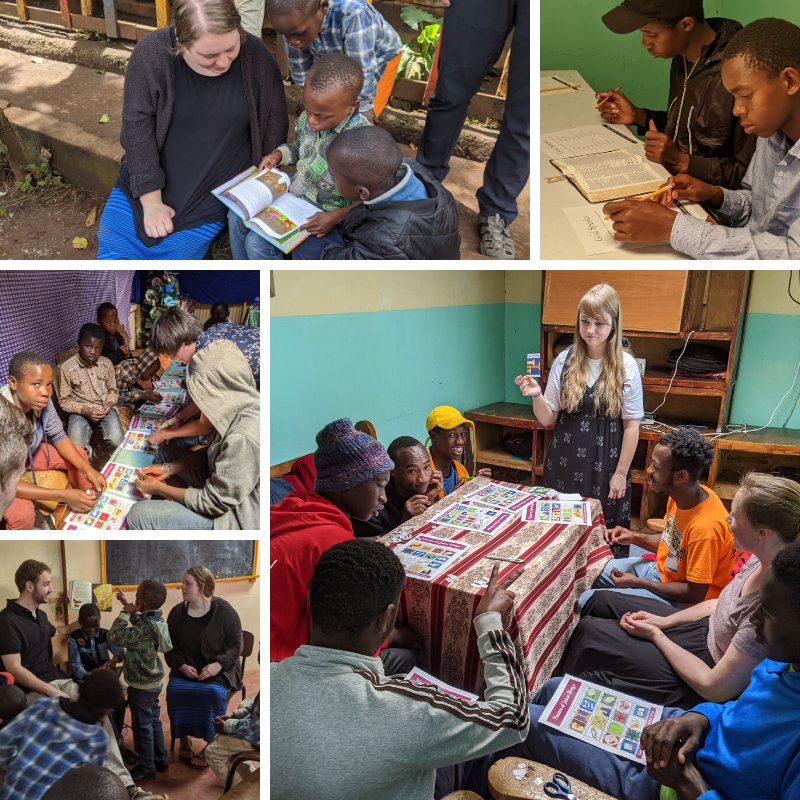 IQM Giving Back Programs
Ask Joni how you can use the Immanuel Quilt Book to raise funds for your nonprofit organization.
Purchase the Good News Reporter Curriculum and IQM donates 15% of the proceeds to the Boaz Project, a nonprofit organization who is helping meet the needs of orphans across the world.