The Quilt with an Amazing Story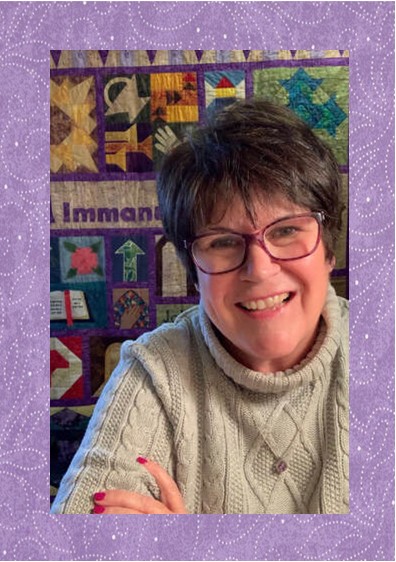 Welcome to IQM!
Hi! I'm Joni, the maker, author, speaker, and storyteller of the Immanuel Quilt.
Immanuel means God with us. Do you believe God is with you? Are you able to sense His presence and hear His Voice?
One night, in a dream, God spoke to me. He told me to make a quilt representing Names of Jesus and to begin a traveling ministry. I had doubts, fears, and reservations about accepting the assignment. I have a fear of traveling!
In the dream I was given three details for the design, and after accepting the assignment, God was with me at every step providing detailed instructions for a quilt that would tell His Story.
The Immanuel Quilt proclaims in Name, and Truth, that God is with us; Alive and active, still speaking to ordinary people, doing extraordinary things.
Every Name of Jesus reveals something about the character of God, his character reveals his glory, and his glory reveals his presence with us.
"An art of its own, a Bible in its own right." – Veronica D.
"A wonderful way to share the Gospel." – Betty L.
"A story everyone should hear." – Melba L.
"A beautiful story of our awesome God!" – Diane S.
"A very inspiring quilt story! -Marge H.
"The quilt is truly divine!" -Marlene J.
UNIQUE. EXCEPTIONAL. AMAZING. WONDERFUL. AWESOME. INSPIRING. EXTRAORDINARY. BEAUTIFUL.

Salvation is found in no one else, for there is no other name under heaven given to mankind by which we must be saved. -Acts 4:12
Quilt Show and Tell
The Immanuel Quilt has been presented at church events and corporate, youth groups and home groups, quilt clubs and civic, private schools and public, youth retreats and women's retreats, and at festivals and fairs. Contact Joni about coming to speak with your group.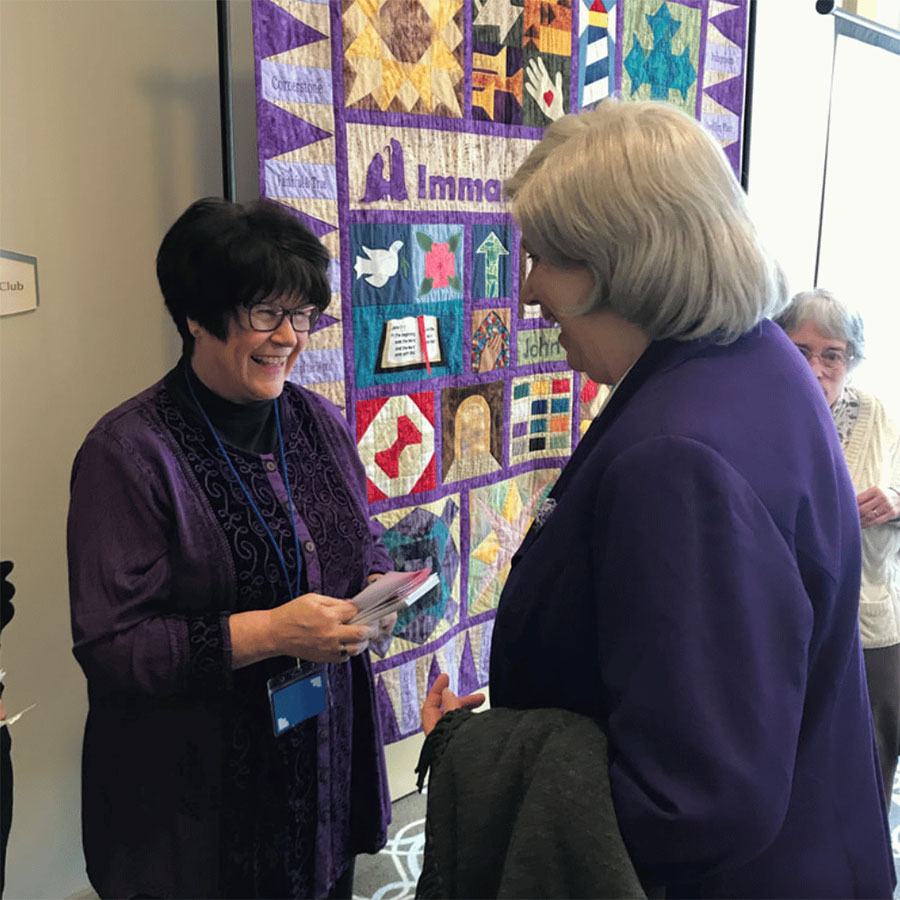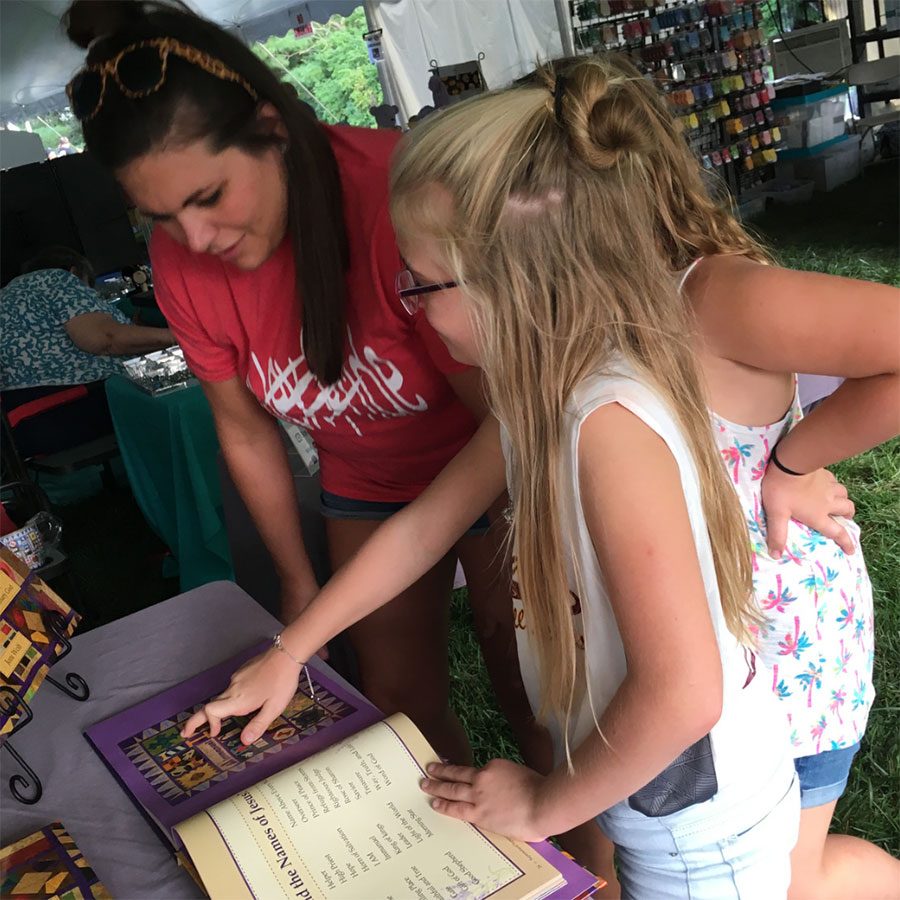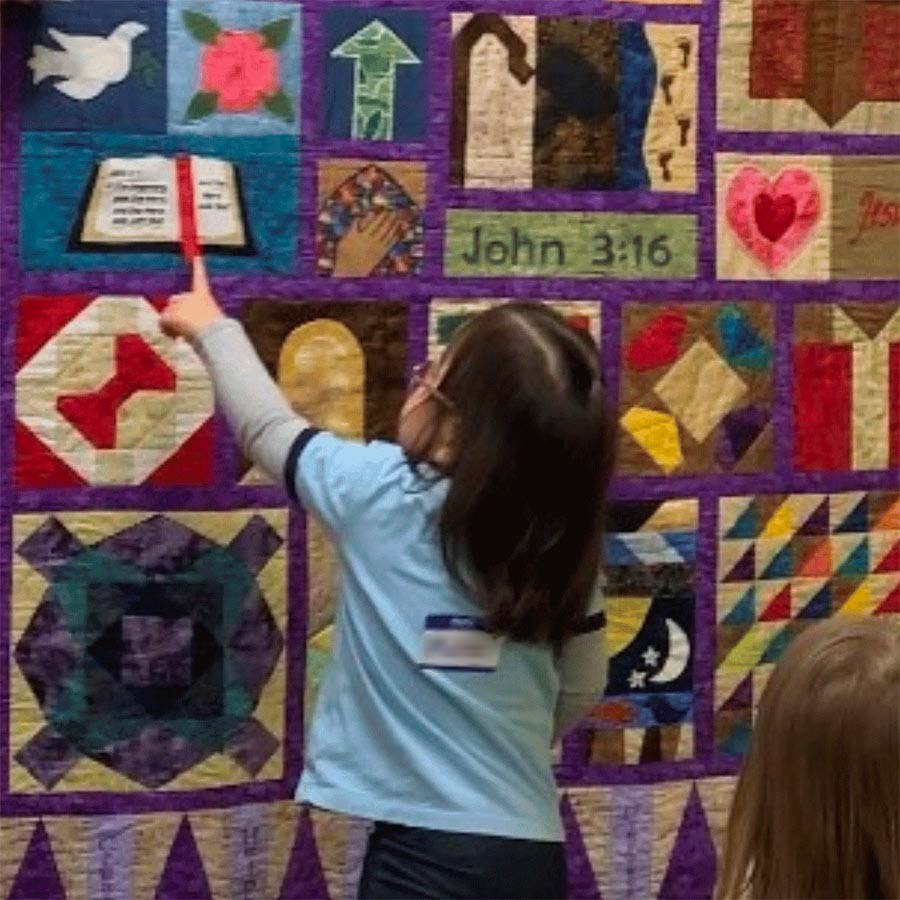 Get the Immanuel Quilt Book!
"Joni interweaves beautiful patches of her life to gift the reader with a close-up and personal glimpse into her story of the IMMANUEL QUILT. This story wraps around you as Joni uncovers the power of God in everyday living. Cuddle up to this unique book stitched with scriptural truths highlighting the joy of a journey seeking Jesus."
Review by Laura Loveberry
​Author, Splatter Paint Hero
Sign up to Follow the Journey and receive Immanuel Quilt Ministry news, updates, and more. In general, emails are usually sent once or twice a month.